Greetings everyone, in this blog-post, you will learn how to override write method in Odoo 8.
The write method for a particular model  can be called by clicking the 'Edit' & followed by 'Save' button in the view of that model.
Here i have overridden the write method of res.users model. You can override the write method of any model in similar way in Odoo 8.
You can overrride the write method for a particular model by,
class res_users(models.Model):
    _inherit ='res.users'

    @api.multi
    def write(self,vals):
        print 'Fields and the values to be updated/written--',vals
        #Write your logic here
        res = super(res_users, self).write(vals)
        #Write your logic here
        return res
You need to give the class name in the super method. For eg here:- res_users
Use of Write Method in Odoo:
Write method executes an SQL update query on the records.
The values of the field  that are going to be wrriten can be found in the vals dictionary, which is the parameter to the method.
The values can be extracted form the dictionary and can be checked against a criteria and a Warning can be raised if its fails to do so.
The vals dictionary can be modified as per the requirement before calling the super method.
The vals will be a blank dictionary if no field is changed.
If you need to call write method again inside the write method, you need to call super method twice.
Here is a snapshot form eclipse IDE:-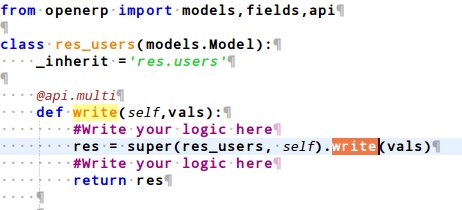 Hope you got an insight and understanding of the ORM write method in Odoo 8 and the way of overriding it.
Please Comment below if you have any doubts,
Thank you.